Watch the Competition Follow Our Lead.
3 Point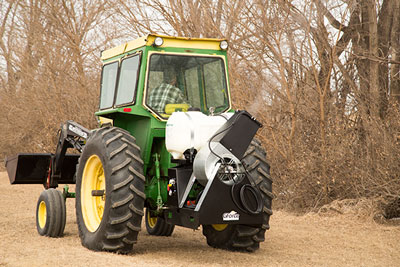 Options Available
40,60,100 & 150 GALLON TANKS
12 volt elec. Fan rotation on volute inleu of Hydraulic cylinder.
High Performance Standard Unit
GForce unit 15" fan hd
Spray Control Center (easy access-safety)
Electric on/off control box
Dual Glycerin filled pressure gauge system
Dual Jet agitation (all tanks)
3-Way drain valve
Hypro 6 roller pump (smooth, quiet, high quality)
540 PTO shaft with chain hanger
Fork truck lift (all sides)
Handgun with 25" hose and hose hanger
210 degree volute rotation
Volute-4 nozzle, galv. steel with Raptor coating in/out
Urethane (special 2 part chemical resistant paint)
Easy-fill poly tanks with galv. straps
Hyd. Cylinder (2x8) for 210 degree volute rotation, (no hyd hoses included) 
Winterizing valve system (no more frozen pumps)
Hi Steve, let us know if you need another unit.
Skid Units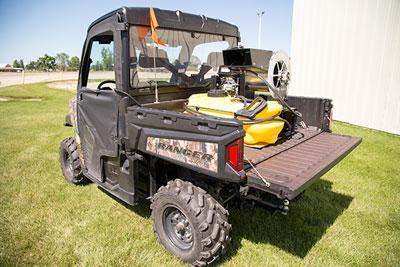 Tyrant Mist Sprayer
15 gallon poly tank. Easy fill with drain.
9" fan with electric start Kohler PRO 209cc 7 hp.
Glycerin filled Pressure Gauge.
12 volt electric pump, 2 gpm @10 psi: 1 gpm @ 60 psi.
Volute – 2 nozzle, Galv. steel with Raptor coating in/out.
210 degree manual rotation/volute (can spray in opposite directions).
Spray coverage from 65' horizontal; 30' vertical (depends on wind).
ON/OFF electric spray controls.
Hand wand with 15' hose – std.
Urethane (special) 2 part chemical resistant paint.
Battery not included (Lawn & Garden type).
Wt. 160 lbs. Dim. 24" wide x 34" long.